Benefits of game meat promoted to political influencers at Senedd event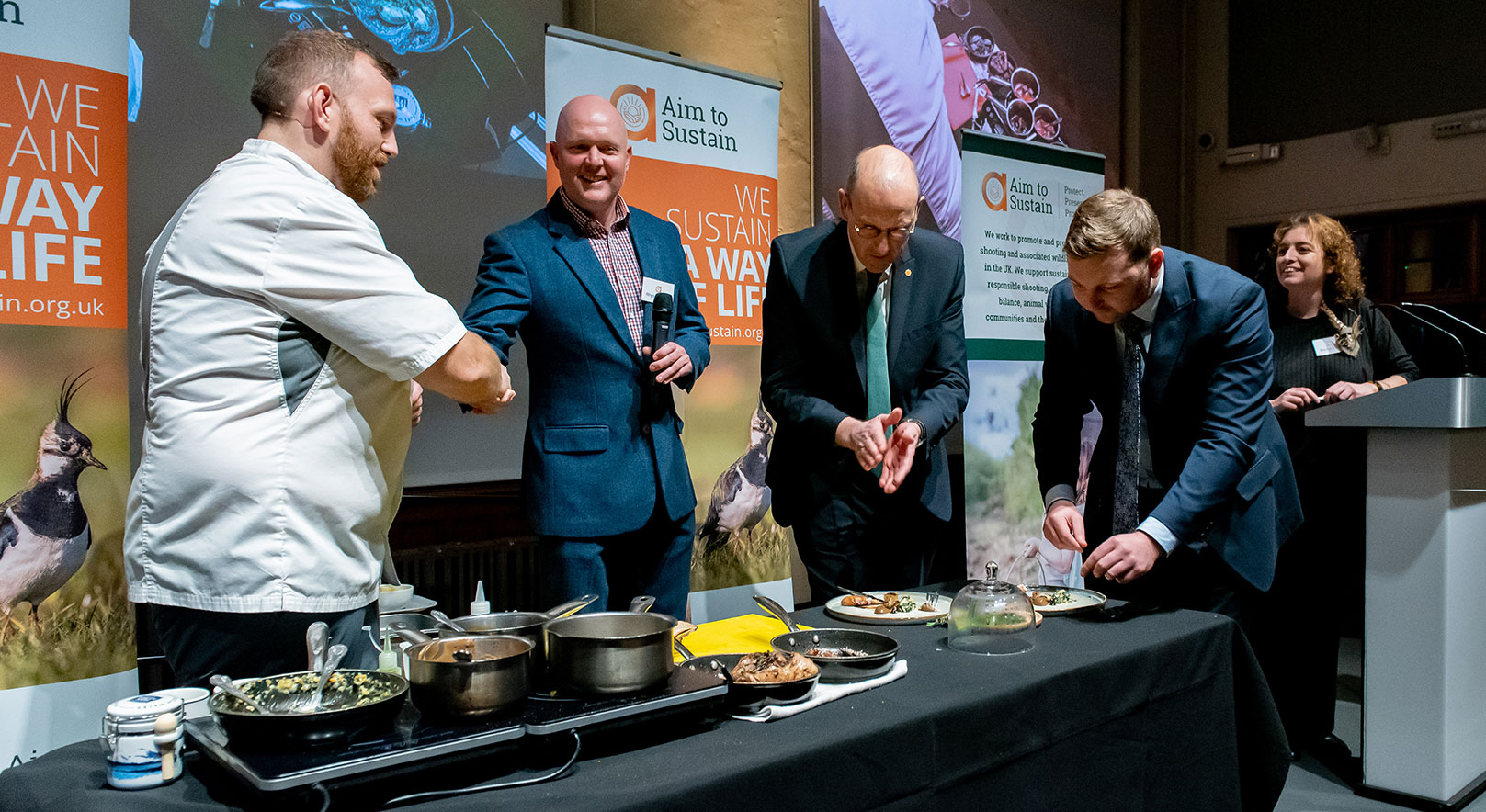 Left to right: (Chef) Hywel Griffith, Rhys Llewellyn, Llyr Gruffydd MS, Samuel Kurtz MS
Samuel Kurtz Conservative MS for Carmarthen West and South Pembrokeshire said: "Shooting and conservation go hand in glove in protecting our environment and vulnerable species and supporting the restoration of habitats and eco-systems. With the Welsh Government not necessarily recognising the wider value of these activities, it is our job to bang the drum and ensure that our rural communities are getting the praise and applaud they deserve. That's why events such as this provide the perfect opportunity to showcase the industry's vital contributions to nature and the environment. The whole team did a superb job at demonstrating the versatility of game produce and showed the complete journey game meat makes to our dinner plates."  
Llyr Gruffydd Plaid Cymru MS for North Wales said: "Shooting is woven into the fabric of rural Wales, it's a part of our heritage and culture particularly in rural communities. Game is a delicious, lean and sustainable product which is incredibly versatile. As more and more of us think carefully about the environmental impact of the food we consume, clearly game has a fantastic story to tell and it was a privilege to support this timely and important event."
Aim to Sustain Wales partners include the Countryside Alliance, British Association for Shooting and Conservation, National Gamekeepers Organisation, Country Land and Business Association, Game Farmers Association, British Game Assurance and the advisors to Aim to Sustain are the Game and Wildlife Conservation Trust.
Spike Butcher from Aim to Sustain said: "Bringing fantastic Welsh game to the Senedd estate has literally given us food for thought. The importance of shooting to Wales in terms of economic, environmental and social benefits were delivered through food, cooked to an exceptionally well by all involved. There was a significant atmosphere created by a plethora of people who depend on shooting, from veterinary surgeons to caterers, conservationists, and those who partake in shooting. It was a great showcase for shooting in Wales".
Rachel Evans, a co-organiser of the event and Director of Countryside Alliance Wales said: "It was a pleasure to join people who are passionate about the countryside and game reaching tables across Wales and the rest of the UK. Showcasing the benefits of this sustainable and versatile meat, at this incredibly important event in Cardiff Bay, was an honour. We would like to thank the cross-party MS support we received throughout the evening".